26
August
2019
|
14:11 PM
America/New_York
The Ultimate Guide to Summer Fun in Hershey, PA
This post originally appeared on mommyuniversitynj.com
Every summer we pack up the kids and head to the Hersheypark Camping Resort for several days filled with fun, adventure, excitement and even some relaxation. Visiting Hershey, PA during the summer season is a MUST DO experience for individuals of all ages. Although Hershey is a great family travel destination, it is also great for couples, scout groups, reunions, weddings and more!
During the summer season (May 3 – September 29), Hershey offers a wide variety of adventures at locations scattered around the town. From water fun at The Boardwalk at Hersheypark to chocolate lab classes at The Hershey Story Museum to outdoor adventure experiences at The Hotel Hershey, there is something for everyone to enjoy! When you're done reading about all the sweet fun, make sure to enter our 4-ticket Hersheypark giveaway at the end of this post!!
Ultimate Guide to Summer Fun in Hershey, PA
Activities at Hersheypark
Reese's Cupfusion
Beginning May 25, guests of Hersheypark can enjoy the newest ride experience! It is an interactive gaming ride with 6 unique ways to play and the most targets in the world! It is perfect for the entire family!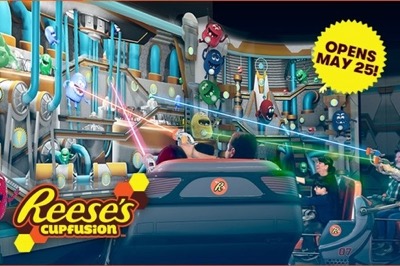 After riding Reese's Cupfusion, be on the look out for some new characters to take a picture with!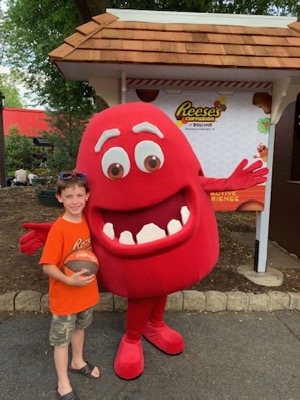 You can also enjoy delicious themed King Size Milkshakes like this one: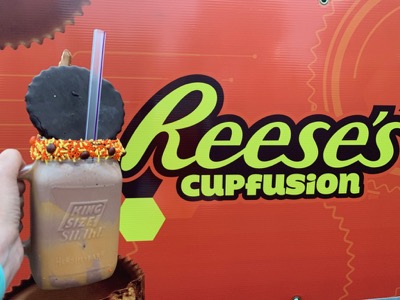 Music, Characters, Shows…Oh My!
Beginning May 25, Hersheypark guests can enjoy incredible entertainment throughout the day! Here is what you can enjoy:
The Hersheypark Band – Strolling around the park
The Soda Pops – Founders Way
Cocoa Rhythm Factory – Strolling around the park
Character Quiz Show – Strolling around the park
Character Commotion – Pioneer Frontier
Hershey's Character Party – Founders Way
Big Top Dreams – Music Box Theatre
The Waves – Pioneer Frontier (near The Boardwalk entrance)
Our Friends of the Sea
Beginning May 3, guests can also enjoy an amazing show at the Aquatheatre featuring California sea lions and Atlantic Harbor Seals. Following the show, for an additional fee, guests can feed the animals and/or take a photo with one of the animal stars.
The Boardwalk
The Boardwalk offers endless opportunities to cool off, and it is included with your ticket to the park. Kids will love exploring the East Coast Waterworks while parents will enjoy floating around the Intercoastal Waterway. There are even spaces dedicated to little ones like Sandcastle Cove and Shoreline Sprayground.
Read the full article here https://mommyuniversitynj.com/2019/05/02/the-ultimate-guide-to-summer-fun-in-hershey-pa/