16
August
2019
|
14:03 PM
America/New_York
How To Get The Most Out Of Your Stay At Hershey Lodge
This post originally appeared on brooklynactivemama.com

During the Sweet Welcome trip where I got an in depth super fun experience at all of the Hershey properties in Hershey, Pennsylvania I had the really fun opportunity to stay two nights at the very popular Hershey Lodge. I learned so many fun and cool things about the resort and I am sharing them with you today!
Hershey's Water Works at Hershey's Lodge
Hershey Lodge has one of the most amazing Indoor Water Parks that I have ever seen. This is perfect for year round visits! From the moment I walked in, I was super overwhelmed with all of the options. There were slides, sprinklers and so much more!
"An exclusive and complimentary amenity for our overnight guests! Enjoy 30,000 square feet of splashing good times featuring Twizzlers Twists water slides and Reese's Water Walk! Plus, enjoy fun interactive water features including our zero entry pool, sand castle spray zone, lighthouse tipping bucket, basketball hoops, and more!"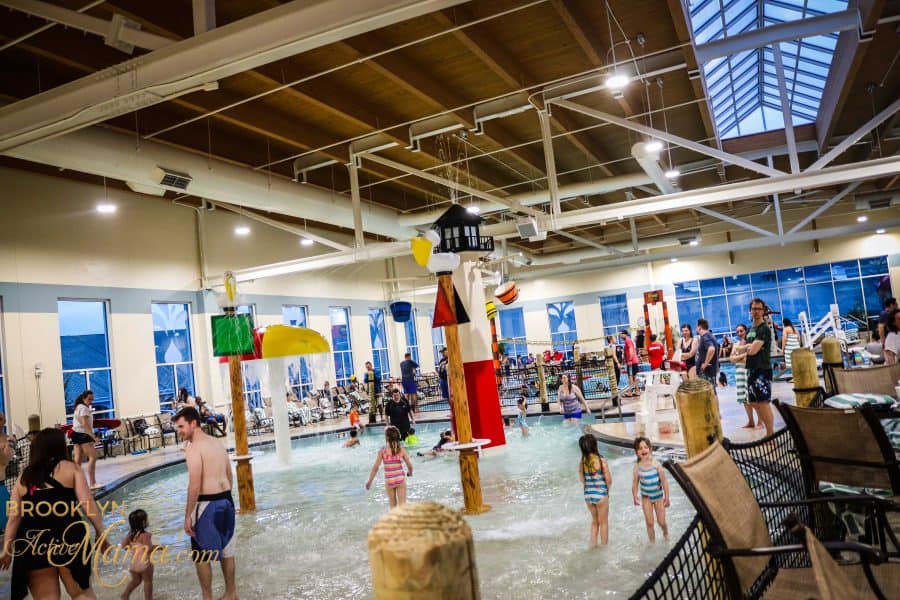 Chocolate everywhere!
Chocolate everywhere: The minute you walk into the lodge you are greeted with the delicious smell of chocolate, it's not too overbearing but just enough to make you want to eat some chocolate!
Plus the lobby area is super inviting with lots of fireplaces, a bar and just a great ambiance.
Delicious Restaurants at Hershey Lodge
Two amazing restaurants Fire and Grain and Hershey Grill: There are many different options to grab something to eat at Hershey Lodge but my two favorites were Fire and Grain and Hershey Grill. Fire and Grain is right at the front entrance of the lodge and it has some of the most delicious flatbread I have ever come across. They have plenty of great food choices but I personally recommend the flatbread and the world famous s'mores jar for dessert!
I was able to have a delicious breakfast at Hershey Grill while staying at the Hershey Lodge and it was really good! I had a traditional American Breakfast because…habit. However, I was able to take some really great pictures of the s'mores french toast that my table mates were having!
Don't miss the Hershey Lodge Gift Shop!
Gift shop has all the candy and trinkets: The gift shop was one of the best I've ever seen! So many cute chocolate themed trinket including t-shirts, swimwear, loungewear, emoji pillows and so much more! I was able to get toy chocolate cars and more for the kids! My favorite part though? The amazing selection of reasonably priced chocolates for you to take home or give as a gift. I personally loved the caramels, they were so good!
Read the full story here https://brooklynactivemama.com/hershey-lodge